The Goal
With many forms of recreation being off limits for most of 2020, River Queen Voyages came to us with the challenge of helping them promote their zero contact 'Kurbside Kayak' rentals. The goal of the campaign was to push as many people to their booking page as possible in the most cost effective way possible. 
The 90 Day Campaign
To kick off the campaign we always like to start with a strong top of funnel ad, optimized for link clicks, with a wide target audience. This sets us up for success a few weeks down the road once we've built an audience to begin running retarget ads on.
For the first two weeks of the campaign this link click campaign was the only thing we ran for a couple reasons. 
To build a retargeting audience
To test which type of creative would run better
By the end of the first two weeks it was pretty apparent that the audience we were targeting were responding to our static image carousel ad at a much more favorable rate. (each click to the booking page cost us $0.08 less) It was at this point we shifted all top of funnel budget and ran with that as our strategy. 
  In the mean time we were sorting anyone who had clicked on an ad, viewed the top of funnel video (While it was running) or visited the booking page into an audience that we would be retargeting to. Anyone who fit into these parameters, but did not make a purchase, are clearly interested in RQV on some level and on occasion just need that secondary nudge to go from a potential customer to being out on the water.  
During our 90 day campaign we also ran a series of smaller supplemental ads to complement both the top of funnel ad and the retargeting ad… 
Couples ad

Targeted toward people who enjoyed kayaking and are in a relationship

Nashville Predators ad 

Targeted fans of the Nashville Predators who are also fans of kayaking. 
This does a great job of attaching the brand to the community 

Midweek "Book now!" discount code ad

This was an extra step in our retargeting campaign 
The discount code was the last step to get high interest users to finally give the service a try 

Family ad 

Targeted to parents with children between the ages of 5 and 26 years 

Bars are closed ad

Targeted people 21+ that enjoy drinking, bars & nightlife 
This encouraged users to get out in the sun instead of being upset that the city of nashville closed down the bars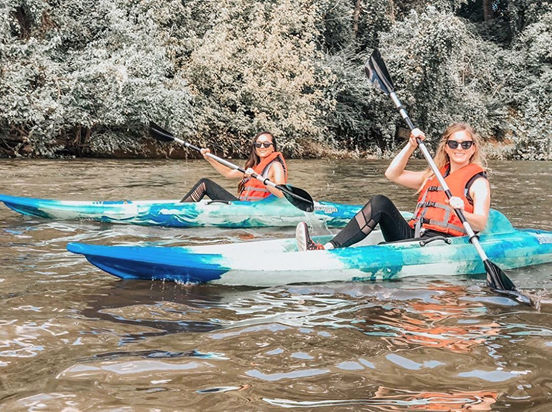 The Results
The overall results of this campaign were a huge success, we were able to direct 3,975 people to the RVQ booking page at a rate of $0.34 per person! Our usual "Acceptable rate" for this stat usually lies between $0.60 and $0.80, and the industry standard is right around $1.00. So we were over the moon about being able to keep rates that low! This shows us that not only did the strategy work, but the creative was on point, the website itself was user friendly and people were genuinely interested in the RVQ product!